Sootmaster Chimney Sweep Jacksonville
What to Expect



At Sootmaster Chimney Sweep Jacksonville, we have a great reputation and quality service. Our 

team's top priority is a happy customer. To achieve this goal, 

we offer a variety of services from our staff with over 30 years of 

experience. Our team is careful to take good care of your home. Each 

member of the team wants to better him/herself and provide the best service possible. We always call ahead about any delays as well as 

arrival times. In addition, we provide a before and after photo of our work. Come to Chimney Repair Jacksonville 

for the best chimney services!
We're a friendly team who will focus on your needs and concerns, so we focus more on you than making a sale. We value our customers, so building a relationship with you is our priority. Therefore, from simple tips to detailed advice on fireplace installations, your local chimney sweep is here to help.
What
We Can
Do
Have Questions? Ask The Sootmaster!
We understand how important it is for you to know what's going on. As a result, we here at chimney sweep Jacksonville strive to help you to enjoy a safer home.
Most noteworthy, here are some questions you may want to ask:
CONTACT US
Lastly, for questions about our services, give us a call at 904-217-6100 . You can also request an appointment online, and we'll send a chimney repair professional right to your door. You can find your local Sootmaster on our area service page. In conclusion, we want to be your top choice at Chimney Sweep Jacksonville.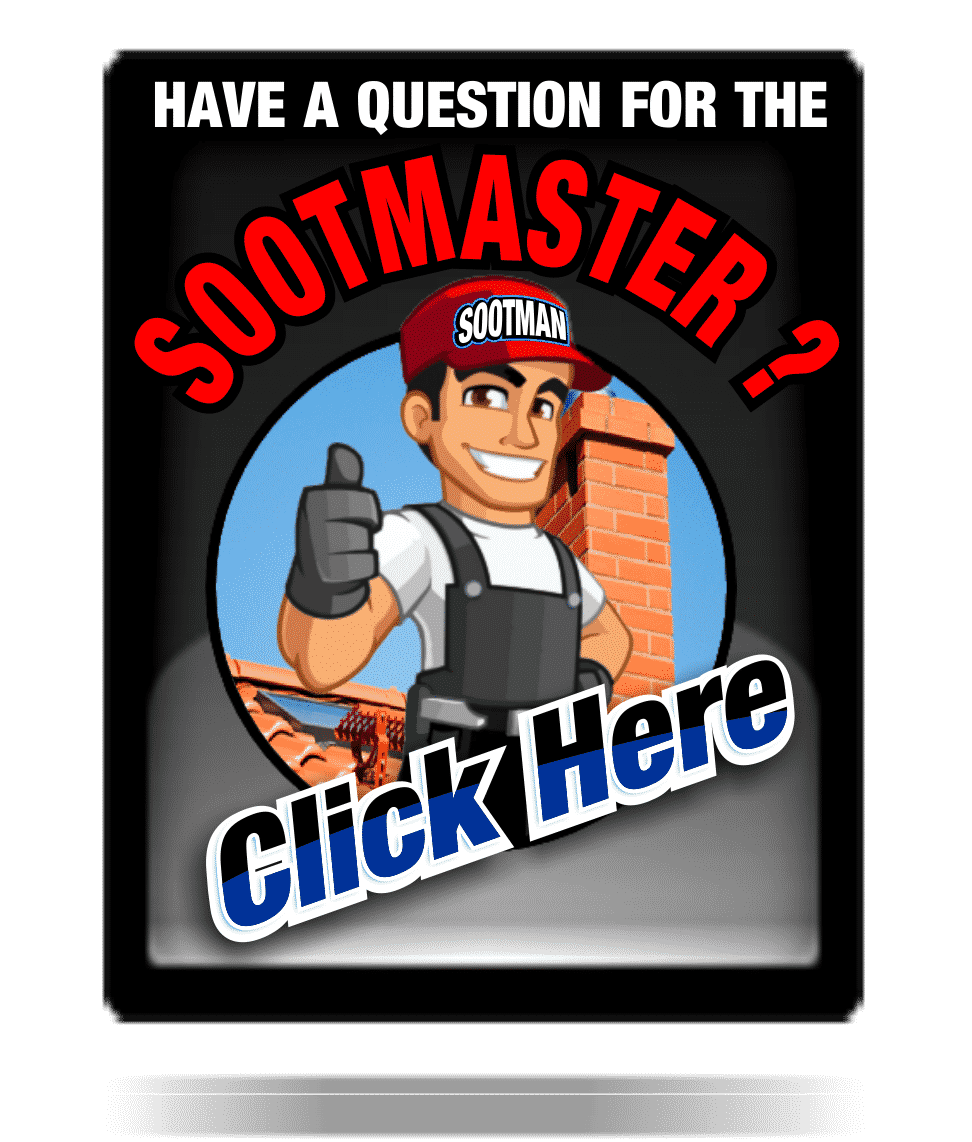 Jennifer A.
⭐⭐⭐⭐⭐
Tim is very knowledgeable, courteous, and professional. He answered all of my questions. He was neat and quick with the job. I'm definitely telling my friends and family to go to Soot Master and to ask for Tim. He is the best.
Laurie M.
⭐⭐⭐⭐⭐
Cole came out and helped me with an inspection and a quote on my leaking chimney! He also was a makeshift exterminator and killed a wasp nest in the chimney as well. Fantastic job– I highly recommend! Thank you thank you thank you, Cole!
Ryan C.
⭐⭐⭐⭐⭐
Cole did a great job with the inspection of our home and made recommendations based on his findings. We would highly recommend Sootmasters for any chimney needs.
Frequently Asked Questions
How often should I get my chimney swept?
According to The National Fire Protection Association Standard 211, "Chimneys, fireplaces, and vents shall be inspected at least once a year for soundness, freedom from deposits, and correct clearances. Cleaning, maintenance, and repairs shall be done if necessary."
My fireplace stinks, especially in the summer. What can I do?
The smell is because of creosote deposits within the chimney, a natural byproduct of woodburning. The odor is sometimes worse during the summer when the humidity is high the air conditioning is turned on. A typical sweeping will help but usually won't solve the smell completely. There are commercial chimney deodorants that work well, and plenty of people have good results with kitty litter or maybe baking soda set inside the fireplace. The real problem is that the air being drawn down the chimney, an indication of overall pressure problems within the house. Some make-up air should be introduced someplace else in the house. A good sealing and a top-mounted damper will reduce this air flow coming down the chimney.
I have a gas fireplace. Should this chimney be checked too?
Without a doubt! Although gas is usually a clean-burning fuel, the chimney can become non-functional from bird nests or other debris blocking the flue. Modern furnaces may also cause many problems with the typical flues intended to vent the older generation of furnaces.
What's safe to burn in the fireplace?