Sootmaster Chimney Sweeping and Repair

Water Leak Repair, Fireplace Installation


Call us today toll-free at 888-768-0818 
888-768-0818
Sootmaster Chimney Sweep
What to Expect



Our goal is to provide high quality service to our customers that will establish loyalty and trust. Our first-class team is trained and experts in the field of work. We're clean and considerate about protecting your property and home. We'll call ahead with expected arrival times or delays, and provide before-and-after photos of our work.
We're a low-pressure team who will focus on your specific needs rather than making a sale. Building a relationship with you is our priority. From simple maintenance tips to detailed advice on fireplace installations, we're here to help.
Why Choose Us
At Sootmaster, we value the customer more than anything, so doing an excellent job that leaves you satisfied with our work is a top priority. Additionally, we offer direct and fair pricing. Our company values are reflected and shown in the jobs that we perform. We do a fantastic job, and our mission is for the customer to feel the same way. By providing you with a detailed report of every job, including what we did, how we did it, and what it means to you. At Sootmaster Chimney Sweep, we take our work very seriously, and we do that by providing only certified technicians to oversee the repairs and services necessary.
All technicians are highly trained and specialized at what they do with many years of experience.

All employees undergo extensive background checks and drug testing to ensure a safe work environment.

All employees are continuously trained and "follow-ups" are regularly confirmed to ensure the same quality of work for every customer.
Hours
Monday           Open 24 hours
Tuesday          Open 24 hours
Wednesday     Open 24 hours
Thursday         Open 24 hours
Friday               Open 24 hours
Saturday          Open 24 hours
Sunday            Open 24 hours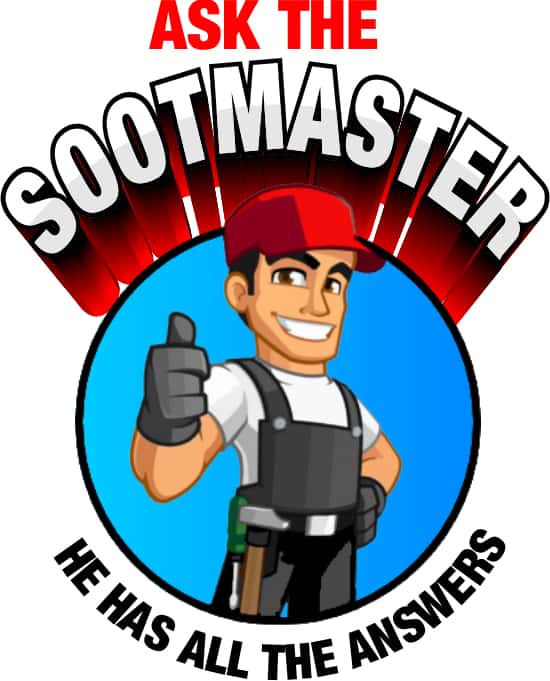 Frequently Asked Questions
How often should I get my chimney swept?
According to The National Fire Protection Association Standard 211, "Chimneys, fireplaces, and vents shall be inspected at least once a year for soundness, freedom from deposits, and correct clearances. Cleaning, maintenance, and repairs shall be done if necessary."
My fireplace stinks, especially in the summer. What can I do?
The smell is because of creosote deposits within the chimney, a natural byproduct of woodburning. The odor is sometimes worse during the summer when the humidity is high the air conditioning is turned on. A typical sweeping will help but usually won't solve the smell completely. There are commercial chimney deodorants that work well, and plenty of people have good results with kitty litter or maybe baking soda set inside the fireplace. The real problem is that the air being drawn down the chimney, an indication of overall pressure problems within the house. Some make-up air should be introduced someplace else in the house. A good sealing and a top-mounted damper will reduce this air flow coming down the chimney.
I have a gas fireplace. Should this chimney be checked too?
Without a doubt! Although gas is usually a clean-burning fuel, the chimney can become non-functional from bird nests or other debris blocking the flue. Modern furnaces may also cause many problems with the typical flues intended to vent the older generation of furnaces.
What's safe to burn in the fireplace?
Sootmaster 2020 GOOGLE Top Rated Chimney Sweeps, Water Leak Repair, Storm Damage Repair, Inspections, and Installations
Contact Your Local Sootmaster!
We have locations in the Southern part of the United States as a premier source for fireplace services and products. Specializing in everything from chimney sweeping, chimney inspections, chimney caps & chase covers to chimney liners, masonry repairs, waterproofing, and animal removals, we are sure to have the solution to your fireplace needs.
Sootmaster's main service hubs are located in Mobile, Montgomery, Birmingham, Huntsville, Pensacola, Fort Walton Beach, Panama City, Jacksonville, Atlanta, Savannah, Hilton Head Island, New Orleans, Baton Rouge, and Biloxi.
All Sootmaster pro's are water leak and chimney repair Expert's.
Don't trust your chimney or fireplace to a roofer or builder that dosen't specialize in chimney repair, chimney cleaning, animal removal, or upgrading your chimney with new products like, fireplace logs, chase covers, dampers, gas firerplace doors, wood stoves and stove pipes. WE OFFER THE FINEST CHIMNEY AND FIREPLACE PRODUCTS ON THE MARKET.