A proper chimney cleanout is not only great for safety but also mandatory. This is because a clogged chimney not only leads to inefficient burning of wood but can also be a fire and pollution hazard. Every year, damages worth hundreds of millions of dollars are reported on account of house fires caused by clogged chimneys.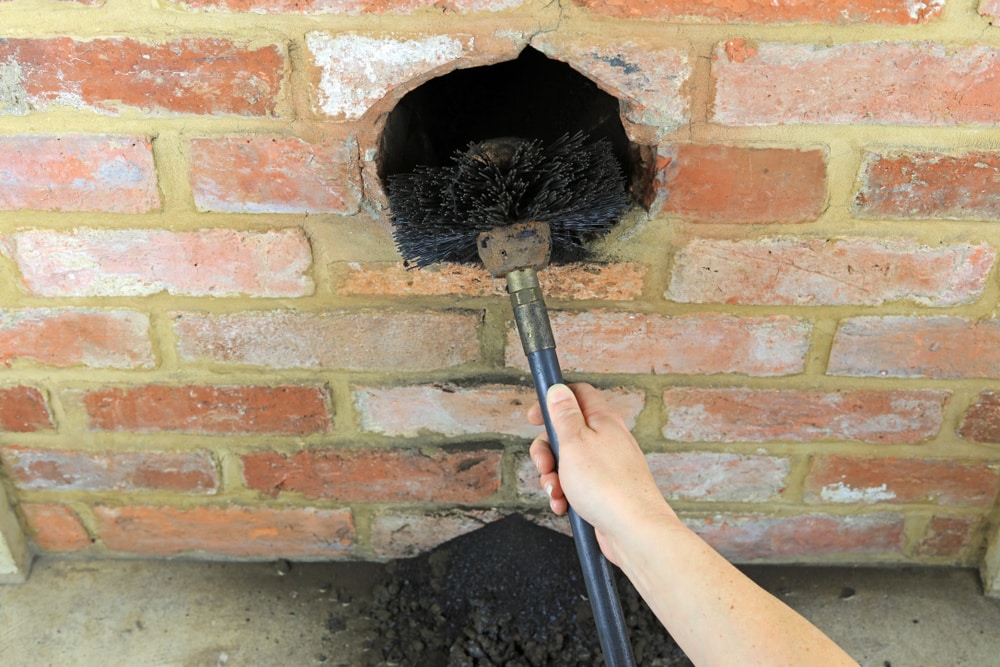 To achieve a successful chimney cleanout that minimizes any risks, it may be a good idea to get in touch with a professional chimney cleanout company like SootMaster. Professional chimney cleanout companies will know exactly what needs to be done and will do a thorough job.
This will free you of the bother of having to roll up your own sleeves and get down to the job of doing a chimney cleanout yourself. It's very important that you need to know how to do a proper job if you are going to do this yourself, due to the risks at hand.
The tools you will need to have to do a proper chimney cleanout are things like using the right cleaning agents and brushes. The actual cleaning of the chimney is a bit hazardous because you have to deal with things like toxic gasses and soot.
You may also have to get to the top of the roof to remove the chimney cap. So while you may be able to accomplish a chimney cleanout, you should undertake it only if you are confident that you will do a good job of it, and that you will be safe.
What a Professional Chimney Sweep Would Do to Accomplish a Proper Chimney Clean Out
They would use the right tools as well as their professional skills to conduct an excellent chimney cleanout. This way, you can be positive that no debris or creosote buildup will cause a house fire. The heating of your house will be far more efficient and you will have a lower electricity bill as well.
A professional organization would have insurance against inadvertent property damage or injury suffered by the chimney cleaner during the chimney clean out process. This is something you won't have if you carry out the chimney cleanout yourself. It's important to have protection for yourself and your property.
They would be able to tell you if any repair or replacement is required. You may be able to spot these things yourself, but these repairs should not be taken lightly.
They would ensure that the chimney cleanout is finished after a smooth process, causing minimum inconvenience to the people in the house. They will also clean up the place before leaving, to make sure no furniture or floors are dirty.
Getting your chimney clean outdone by a professional would ensure that no damage is caused to the chimney during the cleaning process, thereby ensuring that it lasts for a very long time. It's very easy to damage the various parts of your chimney, so make sure you clean with caution if you decide to clean it yourself.
Entrusting the job to professionals ensures that you won't get exposed to pollutants like soot and carbon monoxide. You are also saved the trouble of having to climb up to the roof and risking a fall. Make sure you take the precautions necessary before cleaning your chimney yourself. Face masks and safety harnesses may be smart to invest in.
A professional would make sure that nothing is blocking your chimney, so you have peace of mind knowing that your house is not at risk from fire.
Now that you know how to accomplish a safe and reliable chimney cleanout, let's discuss how not to do a chimney cleanout. What you should never do is to outsource the chimney cleanout to the chimney sweep who simply quotes the lowest price. Just because someone offers the lowest price, it doesn't mean that they are the most reliable. It's important to do your research on companies and look at online reviews, so you know what to expect from them.
In particular, one should be wary of telemarketing scams where people call and offer to get your chimney cleaned out at unbelievably low prices. There are not many regulations required to start a chimney cleaning company, and some will take advantage of this. Again, please do your research before giving anyone your credit card number or your address.
Conducting a proper chimney cleanout takes a lot of time, work, and money when you do it yourself. It can be dangerous if you don't know what you're doing. It may be easier to just do your research on chimney cleaning companies, and hire someone to do it for you.
The chimney clean out is very important and is in fact mandatory, so make sure you don't put it off. Hopefully, reading this article will have made it very clear that a chimney cleanout is a serious business and should not be taken lightly.
We can help you to get your chimney cleaned out. We are professional and reliable and have fantastic reviews online.
If you would like to ask us any questions or if you would like to make an appointment, please do so below.