Sootmaster Chimney Sweep D'Iberville
Who We Are
Our team is careful to take good care of your home. Each member of the team wants to provide you with the best service possible. We always call ahead to verify arrival times and to inform you of any delays. At Sootmaster Chimney Sweep of D'Iberville, first-class fireplace services are available and we have years of experience. We offer chimney sweep services that are performed by a certified technician who utilizes professional equipment specific to the task at hand. In a field where performance relies on knowledge, we have over 30 years of experience, with a multitude of satisfied customers. Although chimney sweeping can be tedious work, our technicians not only take pride in their work but they also enjoy it! By providing our customers with a detailed "before and after" report, which includes photos, chimney sweeps can be easy for you too. We value our customers and are looking to build a relationship with them, which is why we have a friendly team on standby ready to answer any of your questions or concerns. By contacting our team, we can help you with anything ranging from an appointment, detailed advice, or cleaning procedures. We strive to make sure all your concerns are addressed and taking care of with detail and precision.
What

We Can

Do
Why Choose Us
At Sootmaster of D'Iberville we value the customer more than anything, so doing an excellent job that leaves you satisfied with our work is a top priority. Additionally, at Sootmaster we offer direct and fair pricing. Our company values are reflected and shown in the jobs that we perform. We do a fantastic job, and our mission is for the customer to feel the same way. By providing you with a detailed report of every job, including what we did, how we did it, and what it means to you. At Sootmaster of D'Iberville, we take our work very seriously, and we do that by providing only certified technicians to oversee the repairs and services necessary.
All technicians are highly trained and specialized at what they do with many years of experience.

All employees undergo extensive background checks and drug testing to ensure a safe work environment.

All employees are continuously trained and "follow-ups" are regularly confirmed to ensure the same quality of work for every customer.
Watch Out for Water Damage
Water damage is one of the most common issues we find when performing a chimney inspection. Heavy rainfall, severe storms, and hurricanes contribute to moisture in the masonry. Bricks are porous, and the chimney is located on the top of the roof, so chimneys are very susceptible to water leaks. Water can seep into the chimney and cause cracks in the masonry. Prolonged exposure can form mold or mildew within the flue, putting these harmful molecules back into your home. Rust is also an issue that occurs with water leakage and will reduce the integrity of the structure of the chimney. Do you smell a mildew-like odor from your chimney? Do you hear water droplets within your chimney? Give us a call to schedule your inspection to solve this for you as soon as possible, before it gets any worse.
CONTACT US
Lastly, for questions about our services, give us a call at 228-206-0429. You can also request an appointment online, and we'll send a chimney repair professional right to your door. You can find your local Sootmaster on our area service page. In conclusion, we want to be your top choice at Chimney Sweep D'Iberville.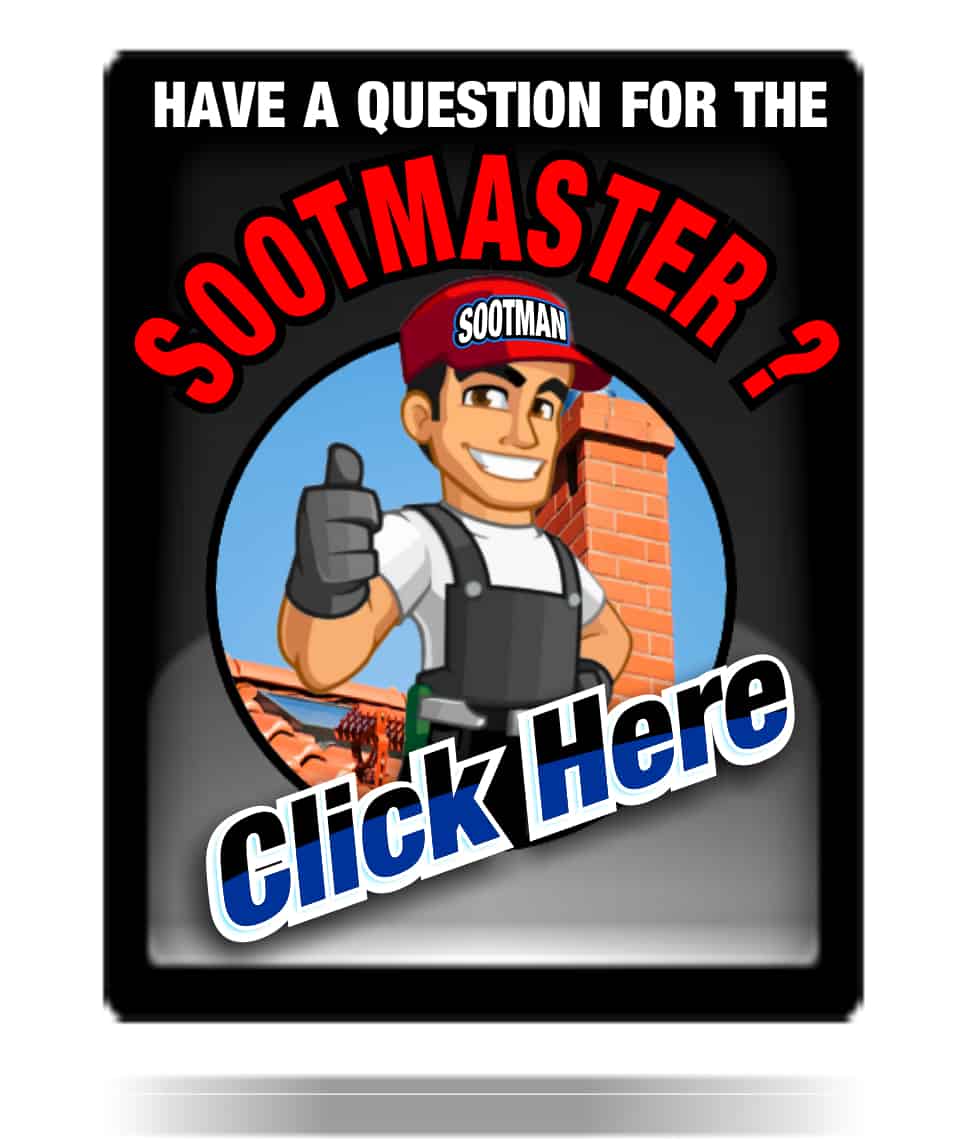 Tabitha O.
⭐⭐⭐⭐⭐
Patrick came out and inspected my fireplace and gave me recommendations for repairs. He was very knowledgable and explained everything to me really well. Thanks for sending Patrick out.
Bonnie F.
⭐⭐⭐⭐⭐
Dennis Hall arrived at the time we spoke to Patrick about. Polite, answered all mine and my husband's question. Left everything clean. I'd recommend the company to friends and neighbors.
Patty B.
⭐⭐⭐⭐⭐
Dennis came out to install a damper in our existing fireplace. He was very knowledgeable, professional, prompt, and kind. He answered all of my questions and even had recommendations for future care/maintenance. He even helped to calm our anxious dog down by engaging her with a squeak toy, which was very appreciated.
Frequently Asked Questions
What's safe to burn in the fireplace?
I heat with gas. Should this chimney be checked too?
Without a doubt! Although gas is generally a clean-burning fuel, the chimney can become non-functional from bird nests or other debris blocking the flue. Modern furnaces can also cause many problems with the average flues intended to vent the older generation of furnaces.
How often should I get my chimney swept?
According to The National Fire Protection Association Standard 211, "Chimneys, fireplaces, and vents shall be inspected at least once a year for soundness, freedom from deposits, and correct clearances. Cleaning, maintenance, and repairs shall be done if necessary."
I'm unsure how to work my damper. Can you explain to me how?
This is a common question.  If the damper is not functioning correctly or if it's closed, you've got a situation on your hands that may lead to a smoky room at best and a fire hazard at worst. The damper is a hinged metal plate or valve used to seal the fireplace when not in use. You want the damper to be fully open, and you want it to be in the open position before you light your fire, for obvious safety reasons.
Hurricane Safety Tips
Hurricane season has arrived and we want to make sure we provide you with the best tips to keep your home and chimney as safe as possible.
Shut the Fireplace Damper:

When your damper is open during a storm, rain and moisture will get trapped in your chimney flue and that can cause many problems. If your chimney has been leaking, look into getting a Locktop Damper installed.

Invest in a Chimney Cap: Essentially a chimney cap is a roof that goes over the hole at the top of your chimney flue. A properly installed chimney cap will keep most of the rain out while also adding extra protection against hurricane damage.
Get a Chimney & Fireplace Inspection: Getting an inspection before any major storms or hurricanes occur can prevent any problems your chimney may have from worsening. If your firebox has cracks, any flooding or water build-up can cause severe structural issues.
Sootmaster Chimney Sweep D'Iberville is here to help and guide you through any questions or concerns you may have. Feel free to give us a call or make an appointment today!